SOUL FIRE SOCIAL TESTIMONIALS
Below are kind words from friends, students, and acquaintances of Soul Fire Social, the platform for my passions: Kundalini Yoga, Gong Therapy and Sound Healing, Sacred Cacao Ceremonies, Community Service and Extraordinary Experiences. Please join us on our journey and we can raise the vibration, together!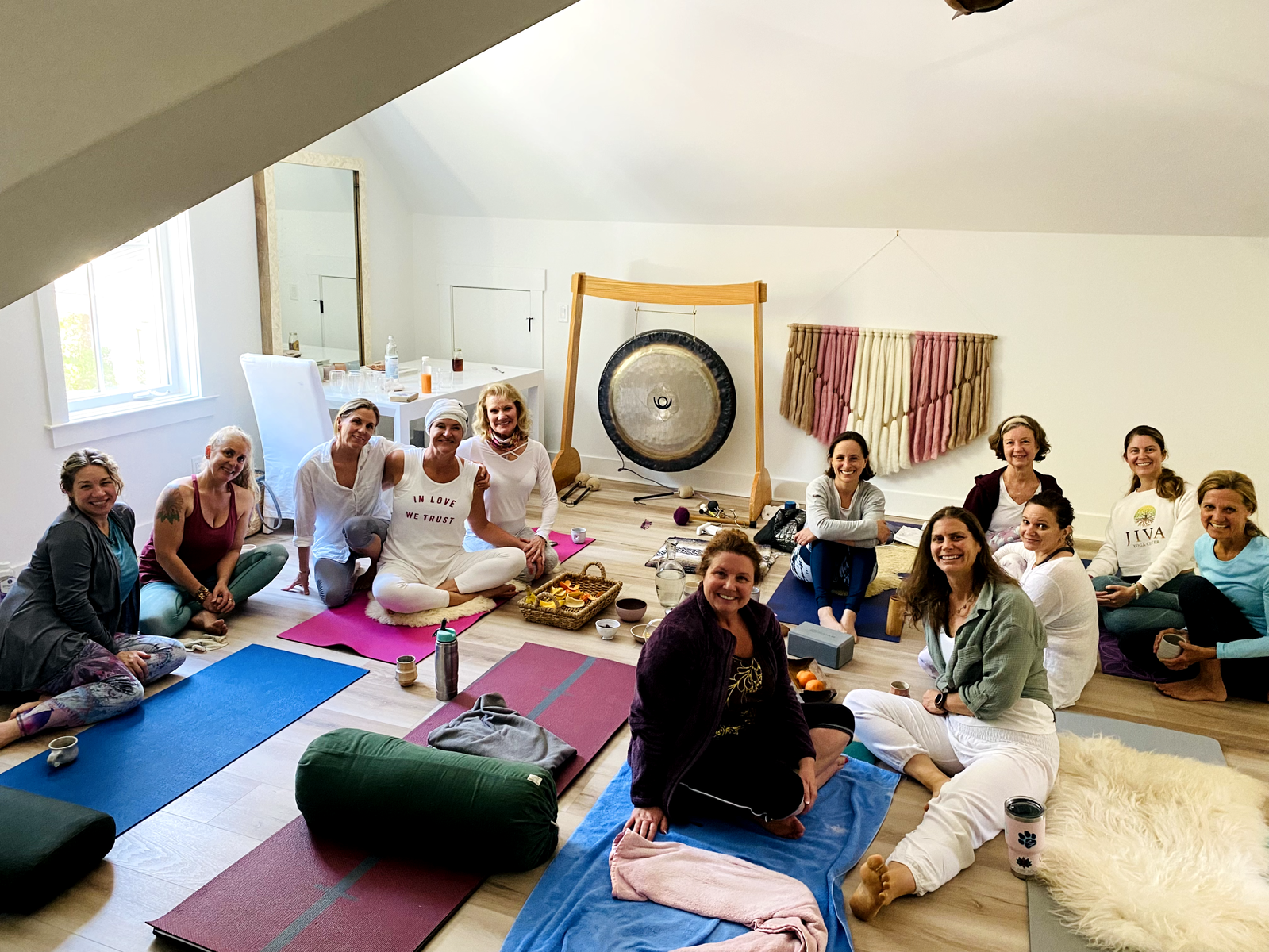 "I have experienced several sound journeys with Candace, and each one produced deep transcendental states with insightful visions and messages.  Candace is a skilled sound healer who infuses all she does with her soul's brilliant light and joy-in-being.  She is clearly guided from within as she guides her participants to personal transformation and greater Self-realization."
"I highly recommend Candace – her offerings make your heart sing! Her cacao ceremonies/sound healing journeys (my favorite!), Kundalini yoga classes (excellent for mind & body), guidance in the Alchemy of Becoming process (a life changer), and retreat trips (amazing!) have added such a richness to life. I've done some of her ongoing practices in person but mostly virtually and that works really well.
Candace is truly gifted in playing the sound instruments and in the way she guides us in the cacao ceremonies/sound healing journeys. I have received great insights in these – I can't say enough how much I enjoy these and how they've opened my heart and intuition. Kundalini yoga is now my favorite type of yoga and Candace is an excellent teacher.
I've processed a lot of 'stuff' over the years and yet Alchemy of Becoming has been a gift – it is so effective in clearing out old vibrations and raising us up to fully be who we are here to be. To add to all this, I recently returned from Candace's retreat trip to the beautiful Lake Atítlan in Guatemala. From the incredible group who went to the many amazing experiences we had to the perfect retreat center and surrounding sacred area – Candace thought of everything to make it an exquisitely special retreat.
Many are looking for that thing to up level their daily life and bring in more joy, connection and heart-opening peace, and I have found that the practices Candace offers do just that."
"The retreat in Guatemala at the Villa Sumaya will stay in my heart and soul forever. Candace organized and managed 17 women from four countries, coming together for a shared experience of finding inner peace and a sense of community that we all need during these times of rapid change. 
 The setting, accommodations, food and support from Villa Sumaya was perfect. We were treated to a number of ceremonies that were led by native Mayans that connected us to the elements of water, air, land and fire, surrounded by the most breathtaking scenery. Candace led us in daily Kundalini classes in an open temple looking over Lake Atitlan. The harmonious chanting of 18 souls, in communion with each other filled me with such joy. 
Candace's organizational skills, attention to detail (which makes ALL the difference) positive energy and light made this an experience that I will cherish, and I so look forward to her next retreat."
"Drinking this golden liquid is only one part of the benefits and guidance that I got out of the Cacao immersion. Candace's meditations, her sound healing sessions and the connection with mother earth were so wonderful and needed in my current state of life. The group connection stays on and is a wonderful add-on. The connection with the inner child was beautiful…a beautiful way to correct my path called life."
I love love loved the immersion! I enjoyed the journey to meet the cacao goddess and the chakra mantra sessions the best and have repeated those to get the full benefit.
Love you Candace, and I love the work you are doing. Keep it up, you are an inspiration.
"Blessed to experience Candace's fiery personality, kundalini yoga, and gong at a retreat earlier this year. I wanted to feel this energy in my daily life. The Cacao Immersion provided more than I expected. My journey through the meditations gave me new insights and tools for releasing what's no longer needed and face where my fire had burned down. A higher vibration and confidence allowed me to set new boundaries. Thank you Candace and Keith for the inspiration and what you do."
"Candace is one of the most authentic, bright lights I have ever met. Candace radiates joy and passion. I have had the privilege of experiencing Candace with yoga, sound healing and sacred cacao. And each and every encounter has been extraordinary. I have physical limitations and Candace encouraged me to do what I could safely do. I felt as though I belonged.  Sound healings and the Sacred Cacao ceremony have been life changing. If you get the opportunity to experience healing with Candace you will not be disappointed.
Candace walks her talk and her humility is breathtaking."
"Ignite Your Power Immersion course had a huge profound impact on my journey. It gave me a deeper dive of unearthing another layer of myself that I wouldn't have other wise discovered without the guidance of Keith and Candace. 
The messages I received through the meditations and ceremonies will forever be imprinted in my mind, in turned it gave me the tools I needed to take intuitive (with bravery/boldness) actions/steps towards my future. 
I am forever grateful for Candace, Keith and this Immersion course."
"Though I had taken the other Cacao Immersions offered by Keith's Cacao, I wasn't keen on doing the Ignite Your Inner Power one. I had a very challenging relationship with figures in positions of power in my life and had been shying away from my own power for…ever.
As it turns out, the things that challenge us the most are the things that also help us grow the most! The Ignite Your Inner Power Immersion was a profoundly eye-opening and truly transformative experience for me. Candace and Keith have put together a compelling collection of meditations, sound healings, and journeys, making every single one of the 22 days equally immersive and deep-reaching.
They say we teach by example, and Candace's powerful presence, heartfelt commitment, and solid support were truly inspiring. I felt held, respected, empowered, never overpowered, and safely guided as I shed layer upon layer of non-serving beliefs and old feelings and came to love the warrior goddess in me. I feel more confident, more centered and solid, and more in control of my own life than ever before, and this has reflected in both my business and my social life. Ignite Your Inner Power is one powerful immersion, and Candace is a powerhouse of a facilitator. I can't recommend this enough."
"I look back and hardly recognize myself from before going through the Ignite Your Inner Power immersion with Candace.  First, Candace is an amazing guide and teacher, any opportunity to participate in a program she leads is a gift – her energy is contagious and her love for her students and the topic is apparent.  The content was well crafted, support was always available, the meditations were powerful and the opportunity to connect with others around the globe was inspiring.  I feel stronger and more certain, confident and centered after participating in this course"
"What a journey I had and I am so grateful for Candace for creating this immersion, for Keith for sharing his teachings, for all of you sharing your wisdom and your presence, for the Universe for sharing this immersion with me and for myself to taking this journey. It has been such a great support to have strengthened my core before meeting with grandmother medicine again.
It was a fascinating experience. The first ceremony I had a strong longing for going home – back to the stars I came from, because I have enough of suffering on this Earth. It was very challenging because I convinced myself that all of this digging our in my psyche only brings out suffering, so I should just stop and go back to "normal".
With support of the great shamans and the group I could see through this illusion. And the next ceremony was a completely different story! There I was reborn or unborn into knowing that I am a medicinewoman – that I don't need to prove it to myself, nor anybody else, that it's not a distraction or a need to be interesting, but that it is my calling. And even though the path is still ahead of me, I can trust the process because I already am who I am becoming.
With this new understanding, I could also look at my first ceremony with different eyes. The longing to go home to the stars showed me that my soul is immortal and that there is beauty and peace waiting for me after I leave this Earth. So I can be calmly walking my path of this life, knowing that I am always safe, even if I die." -via Facebook Review. 
Today was my second cacao ceremony with Candace, and the experience was more than I could have hoped for. Even over zoom, Candace held a space of safety and connection for all who participated, and it was just as moving and impactful as the in-person ceremony I experienced last year. I highly recommend trying any of Candace's offerings. I am eager to now experience her kundalini classes and learn more from this exceptional teacher. I am so grateful to you, the work you do, and the light that you share, Candace. Thank you so much!
I had an amazing session with Candace, it was particularly useful to me as I am going thru a healing transition in my life. Her loving energy, guidance and friendship allowed me completely open to the healing joyous energy of the universe and receive what I needed. When the session was over and I finally opened my eyes the only thing I could think to say was " Oh, the room is still here!" Thanks again!
I met Candace for the first time in her Kundalini class at JIVA on Hilton Head Island last year and was immediately drawn to her inclusive, kind and magical energy. I've been taking her classes via Zoom for the past couple of months as well as participating in her very special cacao ceremonies. I would recommend Candace and Soul Fire Social's offerings to anyone who is curious and seeking — and encourage you to open your mind and heart to her wealth of knowledge and caring approach in all that she shares. I have found a guide, community and connection and I'm grateful
Candace is on fire with the joy of sharing her passion for the healing arts. I thoroughly enjoyed taking her Kundalini Yoga class and Cacao ceremony. Her vibrant personality is contagious and uplifting!! Her talented drumming and gong playing awakens the soul. The Lowcountry will never be the same!!
I took one of the best classes I have ever taken today. I actually teared up a few times! It was so joyful. Candace is gifted as a Kundalini instructor! I loved it. It was deeper and more spiritual than your typical 100 sun salutations….Fantastic Class. Soulful! Fun!
Candace has a way of igniting you by using her passion for Kundalini yoga, meditation, sound therapy, and sacred cacao ceremony to light a fire in your soul to start living a more vibrant life. Her classes allow you to be inspired to move stuck energy in your body with movement, sound, and heart opening ceremony. Being a healer myself it is refreshing to meet another yogi that is passionate about healing the world one person at a time! I highly recommend taking one of her classes or experiencing a healing sacred cacao ceremony.
Candace has been a great friend of mine for about 10 years.  When I first met Candace she was a fireball of energy, top of her work game in the city, super focused and hugely successful.  Candace would burn the candle regularly in pursuit of maintaining her client relationships and producing the best deals.  Super friendly, charismatic and fun with a thirst for adventure there really was nothing that could hold her back.  But what was evidently lacking for Candace was a real-life balance.  How could she expect to maintain the levels of high octane living without also finding an inner peace to nourish her soul?  Signs her body was rebelling began to show with neck & back problems and general exhaustion at times.
Then Candace discovered Kundalini yoga.  In a tiny basement room at the back of her osteopath's clinic in London – here was the sanctuary she craved.   Candace dived into the world of Kundalini like a duck to water and has literally never looked back.  She took with her the work focus, generosity & strength of character and channeled it into her gracious and wonderful teaching practice.
As a hot yoga teacher myself for nearly 15 years, I find Kundalini a very different way of teaching but Candace is able to bring such joy and warmth to a class that anyone would enjoy the practice.   She has a true inner grace, which she shares with everyone in her classes.  Her passion and joy for life are evident and her humility removes any pretention from the class.  Candace embodies the spirit of yoga and I am hugely fortunate and appreciative to be sharing in her journey.  She is only at the beginning of this amazing adventure and I wholeheartedly encourage anyone able to jump on board when they can and experience what this unique and wonderful woman has to offer.
I had such an amazing experience with beautiful Candace at the Cacao Ceremony in Bristol (April 2018). The guided meditation took m
e
on a
wonderful
emotional, spiritual journey, the cacao was lovingly prepared and the gong was truly cleansing, washing over us all! Thank you so much!
I highly recommend not only Kundalini Yoga but Yogi Candace. Her knowledge in the practice as well as her dynamic fun energy will get you centered and energized. My mind goes 1000 mph and never stops, but when practicing Kundalini with Candace I am able to focus inward to a peaceful place. After having a tough year battling cancer where my physical ability was restricted, I was able to take my fear and frustrations and take them towards a  more positive place of confidence and little by little I regained my strength not only on a physical plane but on a spiritual plane. Candace made the practice fun, as well as helped me connect with a part of myself I had left behind.  Candace is a great teacher and excellent human being, and a great hugger!!!
Words cannot accurately relate the energy and teachings that Candace conveys through all of her sessions, yoga, gong, or cacao ceremony. These are unique and truly transformative.
I love practicing kundalini with Candace – she brings great wisdom to the teachings while keeping them fun and engaging. Her joy is infectious! It's a real treat to have her play the gong too!
Incredible Kundalini and Gong experience with Candace! Candace is a delightful soul and her welcoming presence creates a comfortable and warm atmosphere. Looking forward to the next Social Soul Fire gathering! Highly recommended.
I have known Candace since she took her first Kundalini Yoga class with me in London in 2012. She has always been a very enthusiastic student, who wanted to learn and experience as much as possible. She had a very successful career as a stock broker and it is wonderful to see how she channels the qualities that made her successful into teaching Kundalini Yoga, with the intention to help others make positive changes in their lives.
Candace is a great connector and loves to get everyone involved in what works for her. Having people come together and bringing joy into their lives is what motivates her most. She makes her students feel safe and comfortable so that they are more likely to step out of their comfort zone and try new things.
She is a very high energy teacher, knowledgeable, playful and accessible to everyone. She makes her classes fun and you will leave feeling uplifted and inspired. I can highly recommend Candace's work.
Having never practiced kundalini yoga before I wasn't sure what to expect from my first class with Candace – but I did have some preconceptions! I'd previously seen images of kundalini teachers wearing their white turban sitting with crossed legs so I assumed the class would consist of some gentle asanas and chanting. Coming from a vinyasa yoga background I also assumed I'd be one of the fittest in the class. But you know what they say about assumptions… My first class with Candace blew them all out of the water! Whilst the class was deeply spiritual it was also loads of fun. Candace is a naturally warm, vibrant, engaging teacher and she immediately made me relax and embrace the new experience. Candace was able to guide us inwards, encouraging us to join her in chanting the beautiful mantras and I experienced a depth to my yoga practice that I'd never experienced previously. It also quickly became clear that kundalini can also be an incredible strong yoga practice, especially for the abs! By the end of the class I was buzzing with endorphins and totally hooked! Candace is an incredibly gifted teacher and her energy, passion and enthusiasm for kundalini yoga (and life in general) is infectious. By the end of a class with her, you feel ready to go back out into the world and shine your own light a little brighter. It's a transformative experience and I only wish I lived closer to her classes.
I have experienced Candace teaching and I highly recommend her to anyone looking for an inspiring Kundalini Yoga teacher. She teaches with enthusiasm and has a strong and grounded presence.
You cannot help but feel uplifted after a class with Candace. Her spirit and enthusiasm are inspirational, making each class a special experience. Candace delivers the Kundalini teachings with strength, clarity and integrity. But don't take my word for it, go and experience it for yourself. You will be transformed.
I have been practicing Kundalini yoga for 8 years and to be a top teacher requires leadership and authority, something Candace has utilized from her previous career with ease. Candace brings her love, light, and bundles of energy to her classes. I was present at her very first class and have watched her grow into a top class teacher.
Whilst I had known Candace for some time and had done a variety of yoga practices before (Hatha, Astanga, Vinyasa), I had never done kundalini yoga with Candace. The very first session was a revelation. Having struggled with tight hips forever which had always restricted the ease with which I could do certain poses including simply sitting cross-legged; I found in that first short 45-minute session that all of a sudden my hip eased and I could sit cross-legged with my feet tucked up onto my shins. I loved carrying out the practice with my eyes closed and felt light and happy after that session. I was hooked and immediately signed up for Candace's regular London sessions.
Kundalini is known as the yoga of awareness and I find that by carrying out the kriya's with my eyes closed, always with an intention and ending with meditation, song and a gong bath has created an incredible feeling of space, peace and momentum inside me that I have carried through into my day to day life. This is a yoga practice that helps us connect our minds to our bodies, to our hearts. It is powerful, and l love to get 'my fix'.
Being taught by Candace is literally a joy, she brings her quick and easy smile to each practice and her classes almost always involve some laughter which is the best way to carry us through some of the more challenging kriya's. Candace explains each kriya clearly so that we are all joined in a clear intention at the start of each practice and plays the gong beautifully at the end of each practice leaving us physically charged, tired but somehow ecstatic.
If you haven't tried kundalini before, this is the place to start as Candace's classes are highly accessible, physical and transformative.
I can't recommend Candace enough! She is a wonderful teacher, a good friend and simply a beautiful soul!
I met Candace through a common friend on a yoga retreat in Guatemala last year where she was co-hosting the retreat and taught Kundalini yoga. As a part of the retreat, Candace also shared her wonderful gift of playing Gong which was absolutely fantastic. She is brilliant at everything she does and I really enjoyed her lessons. Candace creates space where you immediately feel connected with yourself and her gong baths were taking my breath away. I can't wait to go on one of her retreats soon!
What an amazing experience! Thanks to Jess and Candace for a truly awe inspiring cacao and sound healing session on Sunday. Your spirits and energy brought our group to a place to feel and see our hearts. Can't wait for GO Rogue tomorrow night!
Candace is the real deal. You can tell by the light that shines through her. I participated in one of her Cacao Ceremonies and it literally was one of the most spiritual, enlightening experiences I've ever had. I highly recommend taking one of her classes, attending one of her retreats, or anything else she is involved in.
Candace is a compassionate and talented Kundalini yoga instructor and sound healer. She has welcomed me to Hilton Head Island with welcome arms as a yoga instructor and sound healer myself! Wonderful soul and spirit! You must attend an event with her!
Available for 1-1s, Group Sessions, Workshops and Retreats.
Raise the Vibe With Your Tribe
Soul Fire Social is a platform for all of my passions: Kundalini Yoga, Gong Therapy and Sound Meditation, Cacao Ceremonies, Community Service, Bespoke Events and Retreat Experiences, Music, Art & Travel.